02nd June 2023
Did we learn anything about Succession Management by watching Succession?
Warning:

this article contains spoilers for those people watching the TV show Succession, and for those organisations that aren't practicing effective Succession Management.
IMHO the TV show Succession is fabulous entertainment. The script, the cast, the documentary feel, the production values, the combination of escapist fiction with stories ripped form the headlines. Loved it.
It just so happens that the purpose of the Generator Talent Group where I work is to is to help organisations meet succession challenges. So, in the days following the finale I couldn't help but wonder; did we learn anything about Succession by watching Succession?
For the uninitiated Ep1 S1 of Succession begins with CEO and patriarch Logan Roy having a life-threatening health crisis. It's not long before the Board, Senior Execs and Logan's children turn their attention, energies, passions, and dysfunctional personalities to the question of who will take over if Logan dies. Clearly Logan hasn't prepared for the unexpected. Pure fiction, right?
Succession Management is more than just having a Succession Plan as "plans are great until someone gets a punch in the face" to quote Shiv Roy. Succession Management is a fundamental process that deals with the challenges inherent in transitioning from one leader to another.
At Generator Talent Group we see Succession Management as an integrated, multi-dimensional, ongoing process. The diagram below points to how we work with organisations to leverage 'the talent matrix', to build integrated succession management solutions.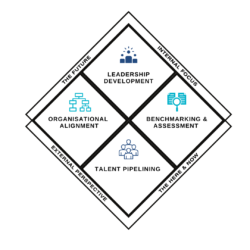 In our matrix one dimension is about being responsive to the issues and opportunities in the here and now, while simultaneously undertaking activities that will have a payoff in the future. The other dimension requires targeted activity on the people inside the organisation while also developing perspectives on the talent and capability trends in the external market. So, here's a spin on Succession Management using a few takes from the tv show Succession.
Assessment – The Internal Short-Term View
Are Your People Ready to Step Up?
Continuous evaluation is critical throughout the leadership succession process. Organisations should regularly assess the skills, knowledge, and leadership capabilities of potential successors.
Who can forget Logan's powerful takedown of his own children when they threatened his merger plans – "I love you, but you are not serious people" or the cynical comment when they tried to outbid him on the Go-Jo takeover "congratulations on saying the biggest number."
Accurate, holistic performance data is fundamental to the credibility of potential candidate(s) should, for example, the CEO meet an untimely demise on the company jet. Continuous scrutiny of performance and behaviour ensures that succession candidates are aligned with the organisation's evolving needs and identifies areas for their improvement.
The proof of your process for setting goals and evaluating performance is the quality of data in your system. Does your data enable you to effectively separate your highest value creators from the pack? To complement appraisal, assessments simulating real-world leadership scenarios are also effective evaluation tools in answering the question: "Who are our best?".
Leadership Development – The Internal Longer-Term View
Start Early, Develop Lots of People
Effective succession management begins long before the transition itself. Developing leaders for future roles must be an on-going, long term, continuous process.
If you're thinking that a leadership program will fix everything, then think back to Gerri's strategy of putting Roman on the Waystar-Royco management training program to help build his succession prospects. While the program prompted some awakenings in Roman, it didn't actually bring about any permanent personal change.
Don't get me wrong, training is important, but training is just one input to the Leadership Development agenda. Creating adversity, diversity, variety and intensity of experience via well timed, deliberate, challenging job moves is how development actually occurs.
The proof of your Leadership Development efforts is not how much you've invested in training but the extent to which you have enough succession candidates who can deliver the business results, inspire the people around them, and are 'Ready Now', for new and bigger challenges.
Market Mapping  – The External Short Term View
Let's face it, Executive Search, Contingent Recruiters and Executive Contracting firms wouldn't need to exist if leadership development agendas were pumping out great internal succession candidates.
Logan Roy had an internal candidate pool; his kids; Kendall, Roman and Siobhan (Shiv) and yeah, Connor; his loyal lieutenants; Frank, Carl and Gerri; and the inside outsider, Tom. However, the whole show was premised on who Logan trusted with his legacy and even though some were tested (Gerri as interim CEO and Shiv as head of US Operations during the Congressional investigation)
I'm sure fans and Succession Management nerds alike figured out early on that none of the insiders or the outside insider were truly up to the responsibility of stewarding the future of Waystar-Royco.
So, Season 2 saw Logan 'courting' Rhea Jarrell, CEO of PGM, Logan's competitor and potential merger prospect as his successor. But Logan had a successor pool of one and when she turned him down (and what a turn down) he was back to square one.
The reality is organisations will never have all the successors they'd like and so it is risk management 101 to have an answer to questions from the Board like: "Are our best people as good as the best in the market?" and, "If we don't have an internal successor for X role where are we going to get one from?" To that end savvy organisations are constantly mapping the market for talent, whether they have a vacancy or not. They know the likely sources of talent if not the actual people, they know what it will take to attract them, and they know how much they will cost.
Organisation Design – The External Long Term View
Do You Know What Capabilities Will Be Required in the Future?
Waystar-Royco was a 20th century conglomerate of Broadcast Media, Print Media and Leisure and Entertainment businesses. Last century these businesses were rivers of gold but now face challenges staying relevant and profitable. Along comes Go-Jo, the Norwegian tech giant and CEO Lukas Matsson. Logan sees the opportunity to add and integrate new capabilities to reposition his business for the 21st century.
Ignoring the plot twist(s) that follow what we see is a (fictional) take on the need to be looking outwards and to the future. Organisation design is way more than organisation structure. Organisation Design should answer the question: "what capabilities do we need to complete in the future?" and "how do we organise around them?" Structure is part of that, but not the only part. A clear operating model, defined processes, role clarity, a cohesive operating culture, and effective reward systems are the other components that come into play.
Succession Management is an Integrated Process
While most organisations have discrete processes around Performance Assessment, Leadership Development, Talent Acquisition and Organisation Design the challenge is the extent to which they are integrated under the banner of Succession Management for the purpose of ensuring consistency of leadership over time.
Final Thoughts
The TV show Succession was pure entertainment, as such it took liberties or glossed over many of day-to-day realities of corporate life.
However, while it was fictional, we did see the often uncomfortable other realities of succession in close-up. We saw the competing agendas, the fact there are winners and losers, the personal price paid by those who aspire to the top, and the inevitable discontent of those who don't make it. Leadership succession is tough for organisations to master.
What was not fictional about succession in Succession is that Succession Management is a process that organisations must prioritise to ensure long-term success.
And now channeling Logan Roy all that's left to say is; article over; f**k off.
Categories: Developing Leaders